Kirk LeMoyne "Lem" Billings was a prep school roommate and then lifelong close friend of President John F. Kennedy. He had his own room in the White House and was offered several official positions by the president, but preferred to be "first friend." Lem also worked for JFK in the West Virginia and Wisconsin primaries and helped gather delegates at the Democratic convention in Los Angeles when JFK was running for President.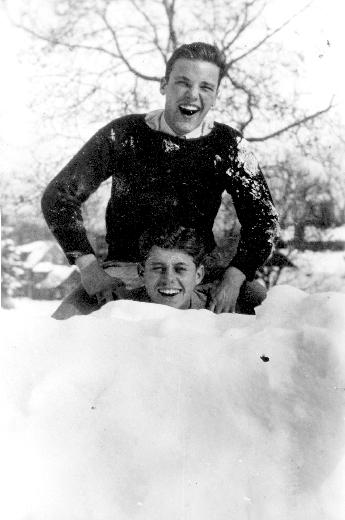 Lem was born in Pittsburgh, Pennsylvania, in 1916 to Frederic Tremaine Billings, a prominent physician and Romaine LeMoyne. The family went back to the arrival of the Mayflower and were ardent abolitionists who championed the education of free black Americans after the Confeder
ate States of America was defeated. Lem's father died in 1933 placing additional strain on the family's finances. Lem had extremely poor eye sight and a high-pitched voice.

Lem and Jack first met at Choate Rosemary Hall in 1933 when Lem was 17 and Jack was 16. From all accounts, they became fast friends, drawn to each other by their mutual distaste for their school and its headmaster, Seymour St. John. "But the bond between Billings and Kennedy became so strong that Billings stayed back a year so that he and Kennedy could graduate from Choate together in 1935," according to David Pitts' 2007 biography Jack and Lem. They continued to Princeton University until Kennedy withdrew for medical reasons. Billings and Kennedy took their summer trip through Europe prior to World War II. They adopted a little dachshund they named Dunker but had to give him up because of Jack's allergies.


In 1942, Lem joined the Ambulance Corps, an organization that had no problem with his eye sight and saw action in North Africa. He later received a commission in the U.S. Naval Reserve and served in the South Pacific eventually getting discharged in 1946. From 1946 to 1948, Lem attended Harvard Business School. Lem had several jobs including selling Coca-Cola dispensers to drugstores, working at a General Shoe store, Emerson Drug Company VP, and an advertising executive at the Manhattan advertising firm Lennen & Newell. He also is responsible for inventing '50s fad drink Fizzies for the Emerson Drug Company. He thought of adding a fruit flavor to disguise the sodium citrate taste.


In Victorian times, Lem might have been described as a "confirmed bachelor," although by the end of his own lifetime he would have been described as gay. In a 2007 book review of Jack and Lem, The New Haven Register interviewed the author and quoted from the book: "Jack made a big difference in my life," Billings said. "Because of him, I was never lonely. He may have been the reason I never got married."
However, the relationship between the two men was friendship. "It's the story of a really close friendship — and one of the guys just happened to be what we think of today as gay," said David Pitts, author of the book Jack and Lem.

John F. Kennedy was well aware of his friend's sexual orientation, as Billings had conveyed his interest in Kennedy early in their friendship. Kennedy rebuffed his advances sharply but actively continued the friendship for the rest of his life. He sometimes had to explain Jack to Jackie—or vice versa. Jackie Kennedy, who liked Billings for the most part, commented to a White House usher, "He (Lem) has been a house guest every weekend of my married life."


Billings maintained close ties to the Kennedys and their children throughout his life and Lem was like a father to Bobby Jr. after his father's passing.
Lem Billings died in his sleep following a heart attack on May 28, 1981. Lem's dying wish was for the young Kennedy men to carry his coffin to its final resting place.

JFK's sister Eunice Kennedy Shriver once said of Lem,

"Of the nine or ten men who were close to the president, I would say Lem was number one…It's hard to describe it as just friendship; it was a complete liberation of the human spirit.

I think that's what Lem did for President Kennedy."

Source: Wikipedia.org