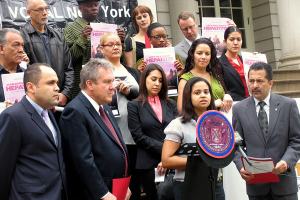 Official launching of the National
Hispanic Hepatitis Awareness Day
at the steps of the City Hall in
New York City. Photo: Yanira Arias.

via thebody.com - 
New York, New York --
The Latino Commission on AIDS and community partners will coordinate awareness and educational events promoting National Hispanic Hepatitis Awareness Day on May 15. The theme this year is "Let's Talk about Hepatitis/Hablemos sobre la Hepatitis." Cities and States throughout the nation will promote and organize events to make visible the tremendous impact of hepatitis on Hispanic communities and the urgent need to develop awareness, promote testing for viral hepatitis and address the stigma, invisibility and discrimination associated with hepatitis.
"Despite the fact that approximately 15,000 persons die from liver cancer or chronic liver disease associated with viral hepatitis, as many as 75 percent of people living with chronic viral hepatitis don't know they are infected. We must multiply our efforts to bring awareness to our communities, so more people will test for hepatitis, can access life saving care and treatment for this condition" stated Guillermo Chacon, President of the Latino Commission on AIDS.
"The first ever National Hispanic Hepatitis Awareness Day will mobilize communities around the country to raise awareness on a serious disease by taking action! Many will be promoting viral hepatitis testing, educating those impacted, and promoting critical services to that are available to confront this terrible disease," said Dr. Elena Rios, President of the National Hispanic Medical Association, "May 15th and beyond will encourage that community, medical and religious leaders, civic and elected officials take action to talk and act to address the serious impact of hepatitis in our communities."
Read the rest