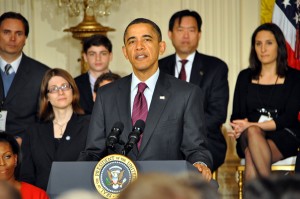 via
Washington Blade, By Chris Johnson
The resolution of the debt ceiling negotiations between the White House and congressional leaders has HIV/AIDS advocates concerned that federal funds for prevention and drug initiatives could be on the chopping block as a result of the agreement.
The agreement — which enables President Obama to raise the debt ceiling by $2.1 trillion and eliminates the need for another increase until 2013 — also requires a total of nearly $2.5 trillion in spending cuts to reduce the federal deficit, which could affect federally funded HIV/AIDS programs.
Carl Schmid, deputy executive director of the AIDS Institute, said any cuts to federal spending as a result of the deal will likely "impact HIV programs in a negative way."
"There will be less money to go around and it will be more competition over that smaller amount of funding," Schmid said. "And there can be direct cuts to our programs particularly if they are taken across the board. Not going in the right direction if we are going to end AIDS let alone prevent new infections and provide care and treatment to people with HIV/AIDS."
All federal funding of discretionary HIV/AIDS programs could see an impact as a result of the decision, Schmid said, including the Centers for Disease Control & Prevention, the Ryan White HIV/AIDS Program and AIDS research programs. Additionally, Schmid said AIDS Drug Assistance Programs could be cut and already lengthy wait lists to receive medication through this program could be extended.
"It's going to be harder and harder to make the case for our programs, but, hopefully, Congress will be receptive to our voices and concerns about the importance of preventing HIV in our country and to provide care and treatment for people who are HIV positive," Schmid said.
Read more.