Lea. T- Transexual model and Kate Moss's kiss for Love Magazine.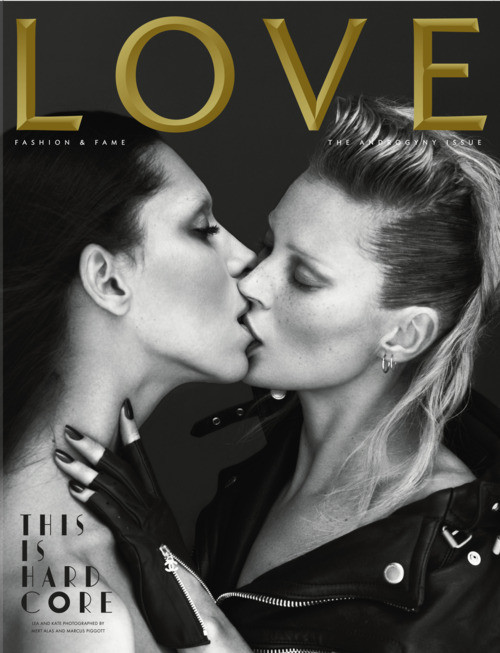 The latest Brazilian supermodel is making headlines for more than just her striking looks. Lea T, the 28-year-old muse of Givenchy's creative director Riccardo Tisci and star of the label's new ad campaign, was actually born Leandro Cerezo. She is undergoing hormone replacement therapy in preparation for a full sex change from male to female.

Meanwhile, the newest Brazilian on the catwalk since Gisele Bundchen and Adriana Lima first strutted their stuff is quickly becoming a fixture in the world of high fashion, modeling for Givenchy's haute couture show and appearing in last month's Italian Vanity Fair.

Lea is also made waves, posing nude in the August 2010 issue of French Vogue. Her hair cascading past her breasts, Lea has one hand wrapped around her narrow waist and the other barely covering her genitals -- which have not been surgically altered.

In Italian Vanity Fair, Lea, whose father is former soccer star Toninho Cerezo, described how she struggled with her identity but always felt feminine. Even in a previous career as a male model -- then called Leo -- casting directors often confused her with the female models.

"I had a big Afro similar to Michael Jackson's in his Jackson Five days," she told the magazine. "When I walked into a room for a casting, there would always be someone who would say: 'The girls' casting is that way!'"

Tisci first noticed Lea's "innate elegance" when he hired her as his personal assistant. "She's a true goddess!" he told the industry bible WWD. "She's always been very feminine -- super-fragile, very aristocratic."

While Lea, who is also studying veterinary medicine in Milan, may be hoping to eliminate confusion by becoming a woman, she told Italian Vanity Fair the transition to female has not been easy. She has faced taunts on the streets of Italy and her hormone treatment has her feeling "constantly premenstrual."

A transgender model in the world of high fashion may seem rare, but it's not new, according to Kelly Cutrone, owner of fashion PR firm People's Revolution and star of the Bravo reality series "Kell on Earth."
Read more about Lea. T
here
.