Gad Beck (born 1923) is a retired educator, author and gay Holocaust survivor. Beck was born in Berlin along with twin sister Margot, to a Jewish father and German mother who had converted to Judaism.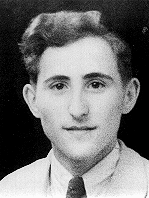 As a person with a partial Jewish ancestry, Beck was not deported with other German Jews. Instead, he remained in Berlin. He recalls in his autobiography wearing a Hitler Youth uniform into the pre-deportation camp where his lover had been arrested and detained. He asked the commanding officer for the boy's release for use in a construction project, and it was granted. When outside the building, however, the boy declined, saying, "Gad, I can't go with you. My family needs me. If I abandon them now, I could never be free."With that, the two parted without saying goodbye.
He joined an underground effort to supply food and hiding places to Jews escaping to neutral Switzerland. In early 1945, a Jewish spy for the Gestapo betrayed him and some of his underground friends. He was subsequently interrogated and interned in a Jewish transit camp in Berlin.