Tom of Finland (born Touko Laaksonen in Kaarina, Finland) was a fetish artist notable for his stylised homoerotic art and his influence on late twentieth century gay culture.
Touko Laaksonen made his first erotic drawings in his youth, but none of them are known to exist; Laaksonen said that he had at first kept his drawings hidden, but then destroyed them 'at least by the time I went to serve the army'. His drawings were based on images of masculine Finnish laborers he had seen from an early age. Finland, however, soon became embroiled in the Winter War with the USSR, and then formally involved in World War 2, and Laaksonen was conscripted into the Finnish Army. He served as an anti-aircraft officer, holding the rank of a second lieutenant. He later attributed his fetishistic interest in uniformed men to encounters with men in army uniform at this time. After the war, Laaksonen returned to civilian life and worked in the advertising industry as a commercial graphic artist, continuing to create erotic drawings for his own pleasure on the side.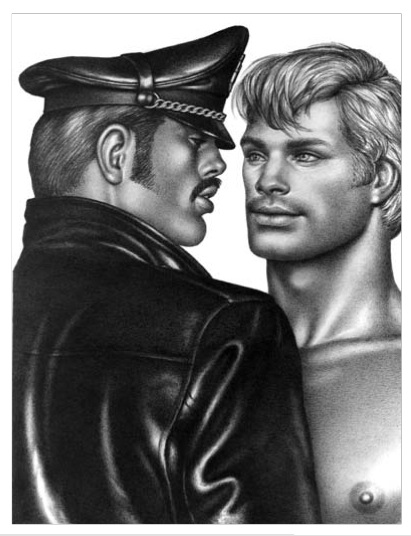 In 1956, Laaksonen submitted some of his homoerotic drawings to the influential American magazine
Physique Pictorial
for publication under the pseudonym Tom. The editor of the magazine changed the name to Tom of Finland.
Read the rest at
Gay for Today.